Profile

The Winter Court of the Insane, Philosophical Ladybug
All rise. Court is now in session.
Free Account
Created on 2011-12-24 22:30:11 (#1254399), last updated 2015-07-23 (88 weeks ago)
11 comments received, 12 comments posted
8 Journal Entries, 29 Tags, 1 Memory, 15 Icons

About

Mini Bio
Thank you all for your wonderful, kind concern! :) I am very aware that my Princess Tutu story Think Back on Yesterday has been plagiarized by a moron. I'm in the process of trying to determine what I can do about it. I've contacted the Organization for Transformative Works to see if I have any legal standing in the matter.

I now have a Tumblr, mostly devoted to squeeing over lovely pictures of the men I particularly admire. Classic movie and TV character actors abound! http://lucky-ladybugs-lovelies.tumblr.com/

The great character actor Simon Oakland deserves to be more fully remembered now and into the future. Please visit and follow From the Desks of the INS: In Honor of Simon Oakland, a blog devoted to this wonderful man and his amazing characters. The website, The Unofficial Simon Oakland Tribute, is now online as well.

For over a decade, I have been acquainted with the beloved Perry Mason characters. I have decided to open a blog devoted to my thoughts concerning this television classic. Please visit Objection Overruled for all things Perry-related.

And, as always, for those seeking my fic announcements journal, please visit:
ladybug_tales!

For those looking for Monkee goodness, please visit: http://www.angelfire.com/ut2/daydreambelievin !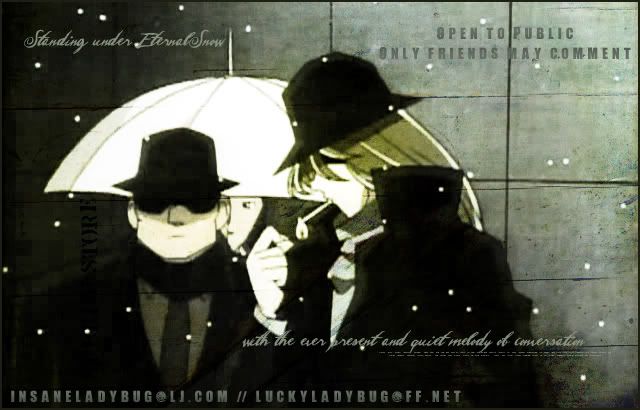 Fanlistings:







ALSO: Soldiers, the fanlisting for Cloud, Sephiroth, and Zack (no buttons yet)
yamsteapot
made this wonderful and awesome LJ banner, the absolutely beautiful journal header (and helped me with the color codes and such!), and various icons I will use here.
These awesome Sailor Moon glitter girls were made by
lovexyax2
at
icon_x_love
!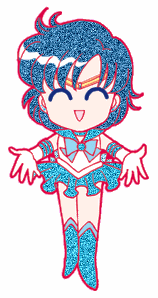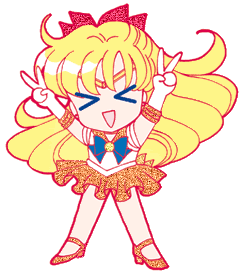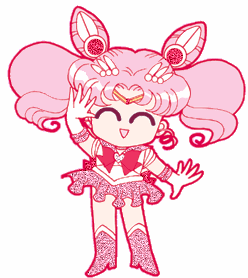 Hmmm. . . . What to say. . . . I am a Japanese animé-loving LDS (Mormon) girl and proud of it! I enjoy some American cartoons too. I prefer more serious ones, though, with lots of beauty and heart. I don't like happy-go-lucky cartoons or ones without plot.
Examples of Japanese shows I like:
Yu-Gi-Oh! (always my #1)
Princess Tutu
Sonic X
Magic Knight Rayearth
Bishoujo Senshi Sailor Moon
Detective Conan
New Mobile Report Gundam Wing
Rurouni Kenshin
Examples of American shows I like:
My Little Pony: Friendship is Magic
Teenage Mutant Ninja Turtles (2003 version)
Teen Titans
The Batman (surprisingly good and fun. It doesn't deserve the bad rap it gets. Do try it!)
Justice League (three-dimensional characters, solid plots, and amazing voice acting. George Newbern as Superman ... yessss. X3)
In my humble opinion, the world's best video games come from Japan. Case in point: The Final Fantasy series (particularly VII and its compilation), the Kingdom Hearts series, Phoenix Wright, and the Sonic the Hedgehog series. Oh, and Mario.
I'm not crazy about too many recent American cartoons, save for the ones that I listed. They're just not what they used to be, in general. However, some of Disney's old ones are absolute gems. It's amazing, some of the stuff they got away with in TaleSpin and even DuckTales, my two favorites. Darkwing Duck was also awesome in general, though I think Disney's biggest mistake with it was falling back on Warner Brothers' type physical humor. It could have been so much better without any of that.
Likewise, I'm not a big fan of the violence in said Warner Brothers cartoons (in fact, I downright can't stand it). However, I love some of the characters, and some of the dialogue in those old cartoons was priceless.
Writing is my passion and I'm always working on something or another. I find friendships and other platonic relationships much more fascinating than romance, in general, and it's very rare that I will write anything that isn't platonic. However, there are a few certain romantic pairings that I am devoted to, such as Zack/Aerith and Seto/Téa (the latter of which is the pairing I can never get away from).
I also adore the YGO anime-only characters and arcs. They deserve love too! Support the filler arcs, people!
Non-shipping is...is umm...?
Made by
dai_atlas. XD Isn't it purty?

And these are called lovebars. All three of these were made by
incosmiccaravan





I'm going to send the most recent colorbars to the top, so this doesn't get messy.

Made by
amanechan:










(The above seven are Christmas and birthday presents. ♥ Thanks muchly! **hugs them.**)







From
mein_requiem. Thanks so much!





These were made by
yamsteapot. Thanks muchly!



Gin and Vodka are Business Partner Love.

Vodka is Quiet Agent Love.

Gin is Cold Agent Love.

Haibara is Scientific Love.

Vermouth is Starlit Shadows Love.

Baby Face, Ruby, Tony, Vince, and Harry are Monkee mobster love.

Baby Face Morales is short-tempered, Micky-lookalike love.


Tony is former police officer love.

And this is by
donkeykongsong:


Leonhard von Schroider is Love



And this from
amanechan, who adores my OC Alexander.


insaneladybug's Alexander is unbelievably cuddly love

This is also by
amanechan:



Yuugiou filler arcs are love.

And this is by
yamsteapot, but I came up with the tagline.




Siegfried is flamboyant businessman love.

These are also from
yamsteapot:




Dartz is Lost Paradise Love


The Bikers are Doomed New Beginnings Love

Alister is Vengeful Big Brother Love

Valon is Cuddly Aussie Love


Raphael is Loyal Love

Connect
barbara hale
,
christopher cary
,
classic tv
,
darren mcgavin
,
h.m. wynant
,
hamilton burger
,
jimmy murphy
,
joseph campanella
,
luke andreas
,
old movies
,
old tv shows
,
perry mason
, ray collins,
raymond burr
,
richard anderson
, roy stuart,
simon oakland
,
wesley lau
, william hopper,
william talman

People
[View Entries]

Communities
[View entries]

Feeds
[View Entries]

Subscriptions (0)

Linking
To link to this user, copy this code:
On Dreamwidth:
Elsewhere: